Category: IoT Server
DIY guide to building multiprotocol IoT web based application server
Typical Internet of Things (IoT) application requires supporting multiple protocols to route the data from and to the local sensor nodes by the internet and web enabled application server.
This article explains in detail architecture of the web based application server.
The Connected World Awaits - click here
"How It Works

In IoT applications, the device to be monitored or controlled has an embedded wireless transceiver that talks to a gateway or router that has an Internet connection (Fig. 1). For example, a home thermostat would communicate by Wi-Fi with the home Wi-Fi router that connects to the Internet via a cable TV link. That link connects with a remote cloud-based server that supplies the application's intelligence, collects the data, analyzes it, stores it, makes decisions, and initiates actions. This server connects by way of the Internet to the applications interface, where another machine like a PC analyzes and displays status and actions. Smartphones are popular interfaces, and they're quickly becoming our all-purpose remote control."
Raspberry Pi
Tutorial: How to Set Up a Raspberry Pi Web Server - click here
RT5350 based devices
 Mini USB Portable 3G/4G router - rt5350f  - click here
 Step by step guide to setting up RT5350 based  HAME A5 Mini and HAME A15 portable routers with OpenWRT firmware and bootloader, links to binary images.  Contains description of GPIO, connecting UART, programming SPI Flash and hardware modifications to increase memory.
 SoftEther VPN Project - click here
"An Open-Source Free Cross-platform Multi-protocol VPN Program,
as an academic project from University of Tsukuba"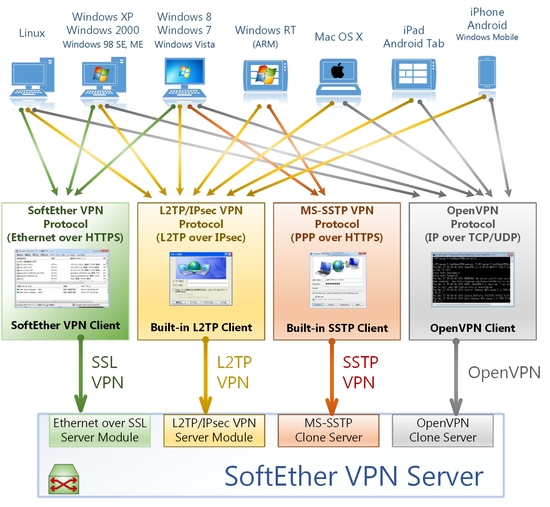 How to Setup a Multi-Protocol VPN Server Using SoftEther - click here
"This article explains how to install and configure a multi-protocol VPN server using the SoftEther package. We enable and configure OpenVPN and L2TP over IPSec and SSTP VPN Servers on Linux."
Routing serial RS232 protocol over the internet
Serial port to network proxy: ser2net  - click here
Raspberry Pi + ser2net = Cheap NM16A (Serial Console Server) - click here
Serial Over IP: serialoverip - click here
Sercd plus xinetd - click here
"RFC 2217-compliant serial port redirector. It lets you share a serial port through a network. It is based on sredird."
RFC 2217 Telnet Com Port Control Option - click here